English classes and workshops
-556 | How to find a Kita in Berlin
22.11.2019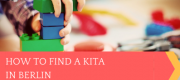 Kosten: 25 € per individual, 40€ per couple
Need to find a Kita spot in Berlin but don't know where to start? Lost in the variety of Kita options? Nervous as to how to maximise your chances of getting childcare for your little one?
Elodie is an expert in all Kita matters and can help you in the process. Elodie founded a bilingual Kita in 2013 in Prenzlauer Berg, after spending hours hopelessly trying to find a Kita spot for her own children. She is also the manager of the company Baby in Berlin, offering family concierge services to expats in Germany. Elodie is a close cooperation partner to maternita, who provide Kita search services to families and companies in Berlin.
Whether you're expecting a baby in Berlin or already cuddling your little one, thisworkshop ist he right place for you to learn about the following:
How to best plan your parental leave to avoid stress with childcare

Kitagutschein (Kita voucher): what is it, how to apply, your entitlement

Overview of various types of childcare: Tagesmutter, Kita, private nannies,

etc

The various types of Kitas and their differences (public, private, EKT, etc)

How to conduct your Kita search and maximise your chances

Organisations that can help in your search
There will also be an opportunity toask questions at the end.
Please fill in the form below with your details and the details of the person accompanying you (if any). You will then get an email with a link you need to clickon in order to confirm your attendance. Following on from that, an email with bank details will be sent so that you can pay for the workshop by bank transfer.